You guys waste no time at'all!
WOW..best KT gig I've been too
NEW SONG is called The Heart of Me (KT thinks...she's not sure yet..was gonna call it The Hidden Part of Me but you work out why not
)
RAAAAAAAaaaaaaaaaaaNDOM FACT! In Missouri....by law..there is no such thing as a female peeping tom! " We all know where we're going then don't we ladies!"
I guess I should do pressie giving first? I'll post photos later once they've loaded
Fozzy came out and fetched us at about 5, nterupting a very exciting game of hangmang hosted by the wonderful Andrew
and we were deposited in a nice room with very cool posters and leather sofas. After about 20 minutes maybe (playing hangman
) KT came in and shook everyone's hands before sitting on the arm of my chair
She was absolutely thrilled with all her presents and is visiting her rainforest belt in somewhere beggining with c? She loved that the hipflask said "with love from the nutjobs"
I'll let Shannon mention the rest as Andrew was the only one brave enough to talk to KT really
Group photo- It's a bit burnt out but meh..what are you gonna do?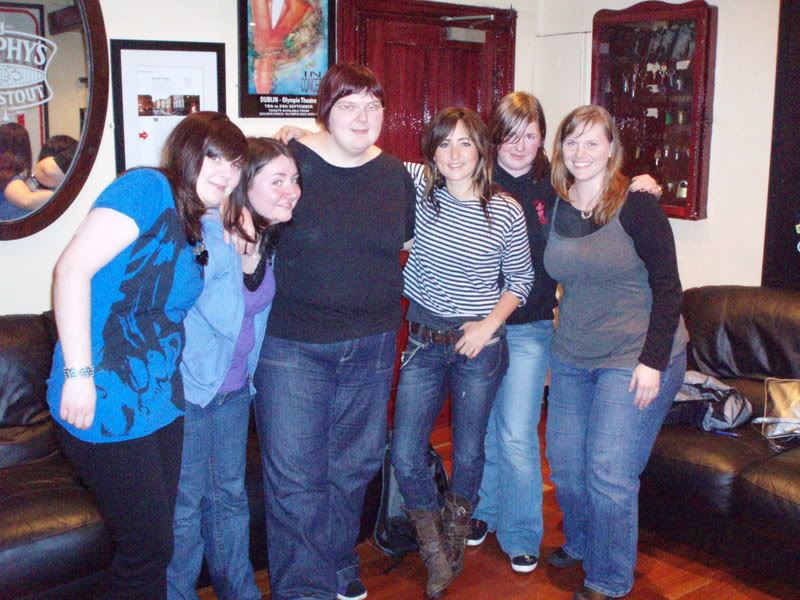 Afterwards we pottered back out into the pishing rain
and back to Alex and Rachel who had been there since 12!
We got there at about 4 having had to cross through a gay pride parade... plenty of eye opening costumes I can tell you!
Picked up an irish fella in the queue who stayed with us all night
Forumers all got wrist bands for the pit and all got the front row
Had a good natter with a few people behind me and turned them on to Acoustic extravaganze which they didn't know about
They were trying to get me to tell them what the first song would be after saying they didn't want to know
The left side of the floor was packed....right side was a bit sparce...we decided the floor must slope left.
Support act came out at about 8..he's called Alan and that's all we'll ever know..SCottish fella and Angela made the mistake of screaming when he asked if there were any Scottish folk in the crowd
He wasn't too bad, playee a couple of songs then another bloke came out to join him then he played a couple more on his own. Last song was good though but that means nothing to anyone seeing as we dunno who he was!
KT came on at about 9.15 and you all know how she starts
OSOTW has become a full on sing along and I love it!
Kt does too, she just beamed everytime the crowd joined in which was almost every song and I quote " *beep*' hell, the irish really can sing". Band were all on top form and in great spirits and smiling at the crowd, Kenny headbanging away
Sam's playing is just phenomenal
He adds sooo much and the new arrangements here and there were great
Story Time!: After KT's last gig at the Olympia she was lying in bed at her hotel (steady on) thinking it was very quiet until a long low moan rang out. A few minutes later another slightly higher moan rang out from elsewhere. Twas the missing links! Trying to find each other in Dublin, because they can't hear their maets calls during the day so live a secret existance at night.
Watch your backs people.
This was followed by Flamenco missing links
With KT on guitar and Sam....well...I'm not sure how to describe it but I hope it'll be on youtube
New song:wow..... there wasn't a sound in the room..it's a beautiful bluesy fingerpicked number that really shows off her voice at it's most
Superb! Can't remember the set list but Beauty of Uncertainty is jsut such a beautiful thing live
Wonderful gig overall in an amazing venue with a great crowd and even better company
We decided to hang about afterwards cause we're all really creepy stalkers with nothing better to do and it's good craic
Stage door's right beside a bar/club and some bloke came out and asked why were weren't going in cause "they let a whoel loads of blacks in and you guys, you're still out here"
I dunno what you can say to that really
Had another bloke calling us eco warriors and I'm not sure if he was wanting us to be off our faces or was telling us we already were
The most potent thing anyone had had all nigth was full fat coke.
Decided I wanted to stalk Sam and after hanging about 3ft behind him for a few minutes nabbed him jsut before he went inside and asked him to signed his album booklet
He seemed really please and was all excited
Didn't understand a word I was saying like but still..I think he got the sentiment
We hung about after and met KT again but I'm done typing and I'm sure you're done reading so here are some pictures
OK they aren't loaded yet...she's so easy to chat with and lovely and THE BOOTS HAVE A HOLE IN THEM!
She also stole my pen but I told her she could keep it cause her gold one died
It was really hard to get good pictures
Great to watch (most of the time)
In no particular order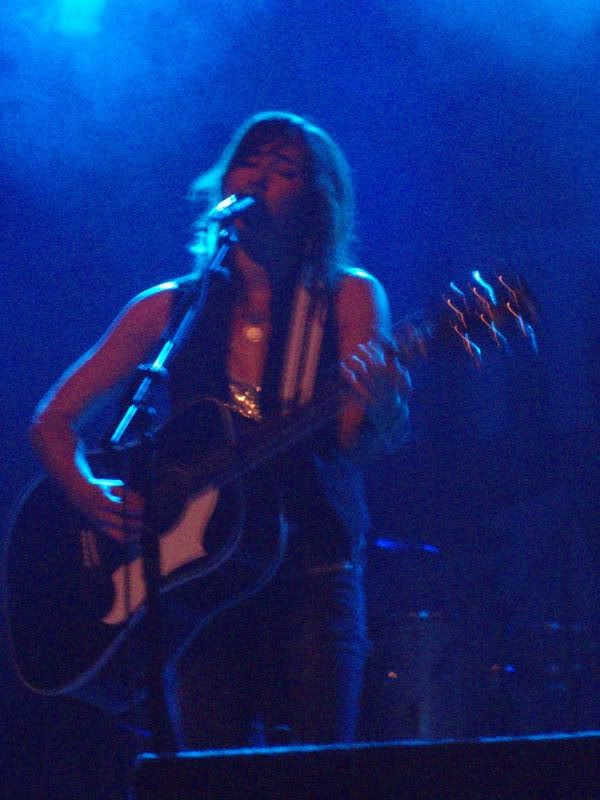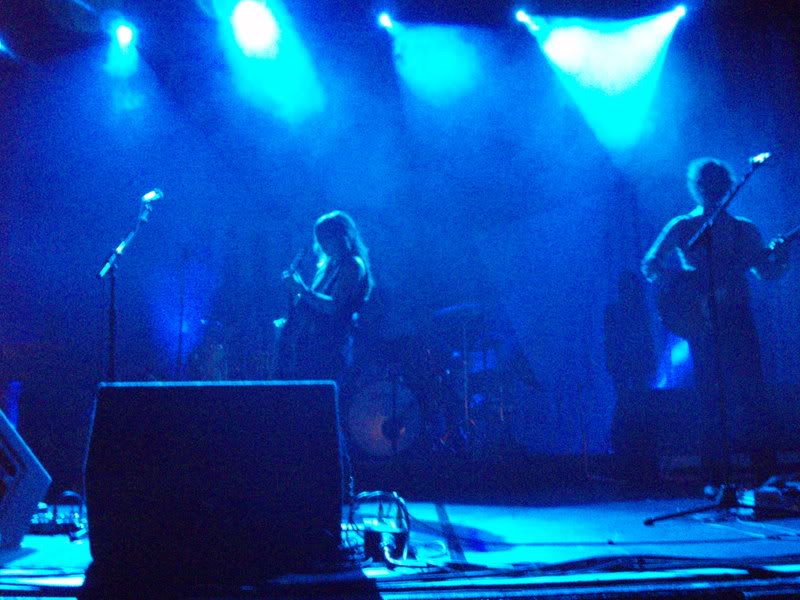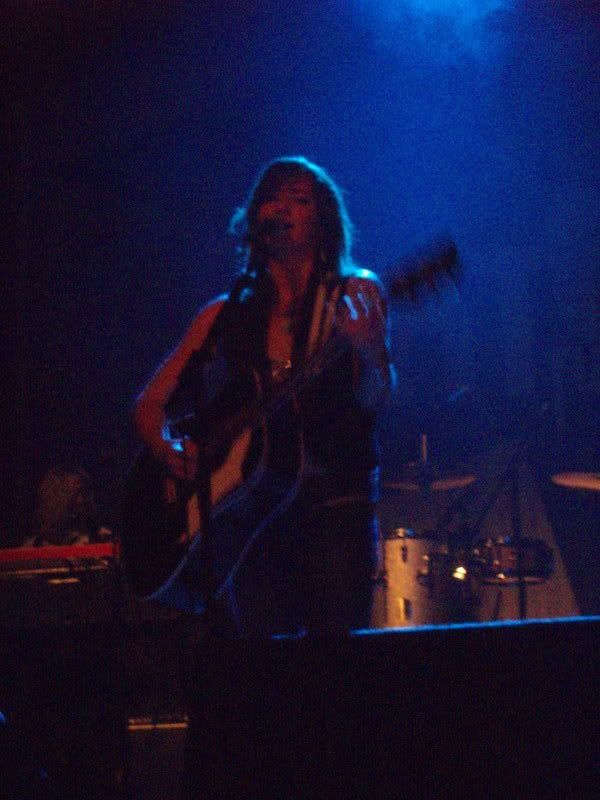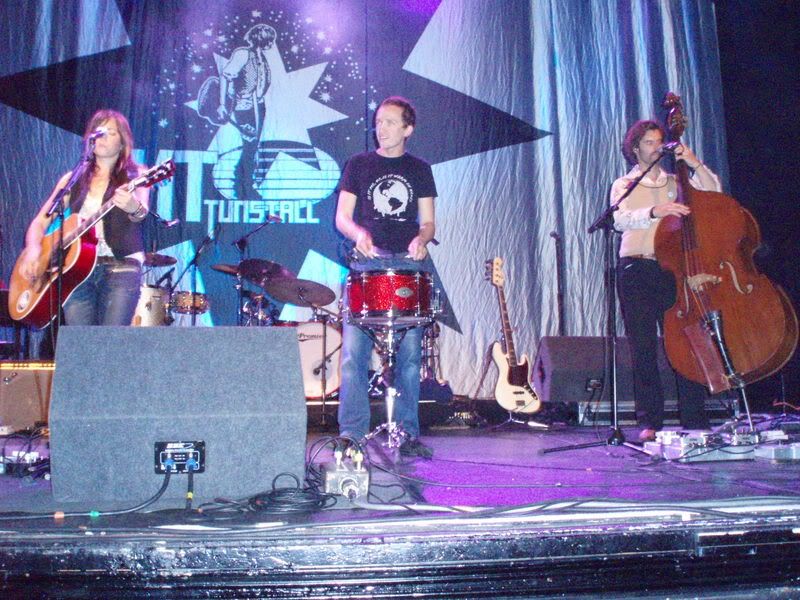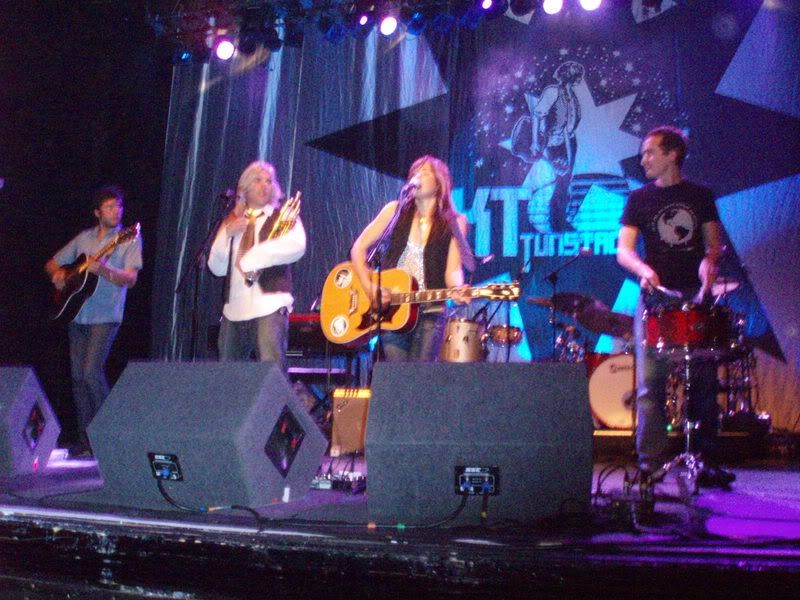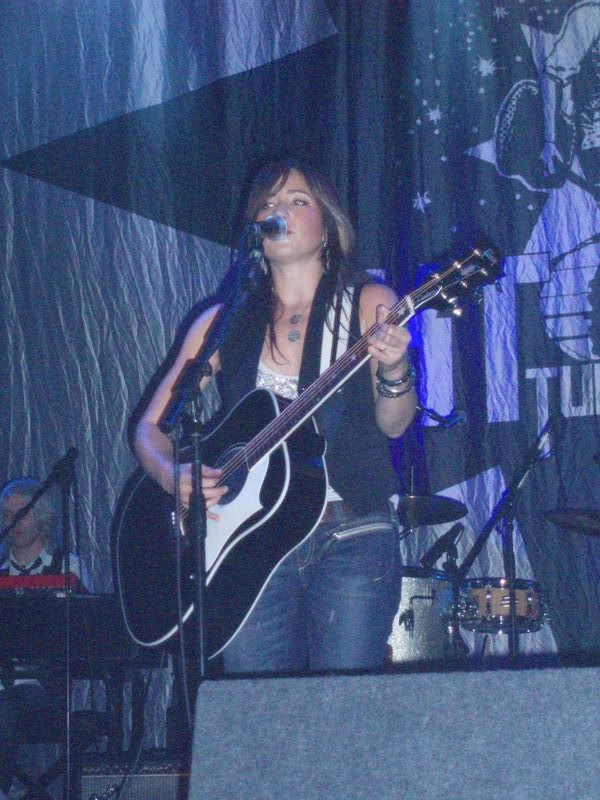 et voila...it was such a good nice I ahve 2 bruised and swollen fingers from clapping