Setlist was exactly the same as Sydney and I think in the same order as well (I couldn't remember the order)....
Thanx for the videos P, brings back memories
Watch the start of
Someday Soon
and you'll get the bit where the string on KT's guitar broke and she's gone all sans guitar and starts high-fiving people in the audience (this is at the end of
Under The Weather
)....forgot the thing about the haggis!
Found another one...
Other Side Of The World (Sydney)
The video's a bit blurry at the start, but you can still hear her.

_________________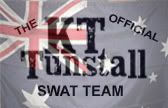 KT Tunstall wrote:
Go for it lads! Ping their hair-bands into their eyes and come back victorious!
I still consider getting wasted as an artistic pursuit.
Music, too, can be a route out of places too dark to stay.