Liss, yup, methinks I definitely met you at the merch stand (argh, wanted to ask if you were from the forums, but thought you'd think I was a weirdo
). I was the tall girl with brown hair pulled back into a ponytail, wearing a black and white dress, black leggings and silver ballet shoes.
Thanks heaps for the pics, you got much better shots than I did (the tyranny of distance and my crap photography skills
)...Luke didn't throw his drumsticks, but I remember KT throwing a pick or 2 into the crowd...I think she did it during
Under The Weather
when her guitar stuffed up.
Newton Faulkner wasn't as bad as what I thought he was going to be (I only had Nat's opinion of him to go by
)....he was weird, but good and funny weird, I like that though. The acoustic version of
Bohemian Rhapsody
was hilarious, really good actually.
TinGX, no bouncers came up to people and told them not to take photos, a lot of people were doing it. They did flash a torch in someone's eyes cos she'd got up on someone's shoulders to get a better view, but she didn't take the hint and he had to get into the crowd to tell her.

_________________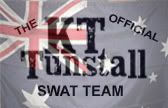 KT Tunstall wrote:
Go for it lads! Ping their hair-bands into their eyes and come back victorious!
I still consider getting wasted as an artistic pursuit.
Music, too, can be a route out of places too dark to stay.