Apologies in advance cos I'm about to go
....but first, I'll say congrats to everyone who won and thanks to whoever voted for me.
The Bloodied Cyclist wrote:
I understand why people want to be involved with those places (sadly), and why acts make the most of their immediacy (they'd be mad not to..and with KT's genuine love for randomness it makes some sense for her to do so), but it ain't for me.
I never was one for following the crowd.
TBC.
That last sentence I put in bold rings true for me.
I must be one of the few Gen Y folk who hasn't signed up to either Facebook or Twitter, namely cos (a) I'm verbose at the best of times, so Twitter wouldn't help
and (b) I have big issues with how FB handles security in general, not just with what info you provide. If it weren't for the latter, I'd probably be on FB communicating with
all
my friends - that's the only reason why I would use it. I do feel sometimes like I'm missing out a bit, but like TBC said, I've never been one for doing something just because everybody else is. Each to their own I say and I certainly don't knock those who use social networking sites.

_________________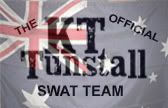 KT Tunstall wrote:
Go for it lads! Ping their hair-bands into their eyes and come back victorious!
I still consider getting wasted as an artistic pursuit.
Music, too, can be a route out of places too dark to stay.