Andy L wrote:
Mitchell Johnson did end up bowling... well... I don't know what the word is really
A polite term would be wayward. A less polite term would be s***house.
Bowling + fielding let us down. Dropped too many catches and the bowlers once again proved we can't put the screws on in dire situations like we used to.
Bright spots from my perspective? Peter Siddle's efforts in the English 1st innings...admittedly even I was puzzled as to why Doug Bollinger had been dropped, but Siddle answered his critics well and good, including myself. Mike Hussey again proving what an absolute champ he is (and again, I've knocked him several times too), that man's got more lives than a cat I swear! Brad Haddin too stepping up to the plate, he's also copped a wee bit of late with Tim Paine playing so well. Xavier Doherty doing a decent job on debut, despite also dropping a catch.
Hoping North + Johnson get dropped for Adelaide, also hoping Clarke will too, but I doubt it.

_________________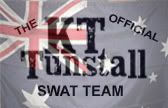 KT Tunstall wrote:
Go for it lads! Ping their hair-bands into their eyes and come back victorious!
I still consider getting wasted as an artistic pursuit.
Music, too, can be a route out of places too dark to stay.