SomethingRandom wrote:
Aaaaaah. I have actually not got a clue how I know of her...help?
Er, her music perhaps? Or if you've ever seen the Aussie movie Bran Nue Dae, you might've seen her there.

_________________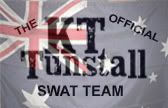 KT Tunstall wrote:
Go for it lads! Ping their hair-bands into their eyes and come back victorious!
I still consider getting wasted as an artistic pursuit.
Music, too, can be a route out of places too dark to stay.