Stephen wrote:
I do love some of the Sesame St gang. Cookie Monster, Bert & Ernie, and the Count being my fav's.
I
Cookie Monster! He rules. I've got a
Cookie Monster Mock
(something to hold and protect your mobile/cell phone), but it needs replacing cos its dirty and its had it.
The Count rules as well...
ah ha ha!
And Elmo too of course.

_________________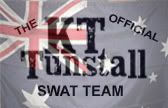 KT Tunstall wrote:
Go for it lads! Ping their hair-bands into their eyes and come back victorious!
I still consider getting wasted as an artistic pursuit.
Music, too, can be a route out of places too dark to stay.