For all you single folk out there, a question:
How often are you hassled about being single? Have you got people in your life who are well-meaning about the subject, yet put their foot in it, or have you got people on your back all the time or not at all?
Reason why I've asked is cos I've realised this afternoon and into this evening just how sensitive I am about my long-term singledom. A family friend of mine kept broaching the subject & despite telling her to politely "back off" (as well as mentioning twice that I get embarrassed whenever someone brings up the subject), it just didn't seem to sink in & I went home from her place rather upset & uncomfortable about the whole thing. I know she meant well, but it hit a painful/raw nerve, especially when she starts trying to play Cupid in front of company (2 women with babies) I've only just met by asking them whether (a) they have any eligible males for me to date and (b) once one of the girls thought of a guy (her Catholic brother-in-law), suggests to me I ought to date him, despite me thinking I want no part in it & I can handle my own affairs thanks very much.
I know I'm not being pro-active at all about ending my singledom, but right now, all I want to do is focus on getting
me
back on track in terms of my life, not on finding a man. Half of me is like "whatever will be will be", yet the other half is depressed about my perpetual man drought & would give anything to be in love right now. *sigh*

_________________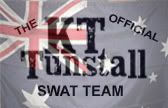 KT Tunstall wrote:
Go for it lads! Ping their hair-bands into their eyes and come back victorious!
I still consider getting wasted as an artistic pursuit.
Music, too, can be a route out of places too dark to stay.