Overcast & wet. Again...although a bit warmer thanks to the humidity.
December's been a sh*t month for Sydney weather wise - coldest start to summer in 51 years and a fair bit of rain. Just hoping January's better, even with this above-average rain forecast.

_________________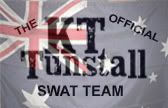 KT Tunstall wrote:
Go for it lads! Ping their hair-bands into their eyes and come back victorious!
I still consider getting wasted as an artistic pursuit.
Music, too, can be a route out of places too dark to stay.