Big hellos to James & Rach from moi!
An update for you all...
Am still sans computer & interwebs. It sucks majorly, especially since I haven't got my TV either atm (the main TV died not long after the computer did, so I kindly let my parents use my piddly little thing). TV situation will be sorted before computer situation, but I'm hoping it won't be
too
much longer before I'm back on here again.
Am missing all my online chums (here, the other forum I belong to and somewhere else I post at occasionally), hope you're all good.

_________________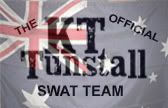 KT Tunstall wrote:
Go for it lads! Ping their hair-bands into their eyes and come back victorious!
I still consider getting wasted as an artistic pursuit.
Music, too, can be a route out of places too dark to stay.