Quick post just to say I'll be MIA for a while - my computer has
finally
kicked the bucket (internal/hard disk stuff this non-tech lass is going to bother with), so I'll be sans regular interwebs for a while. Hopefully I'll be back online in about a month, with a brand new shiny computer.
Just thought I'd post this in case people start wondering where I am.

_________________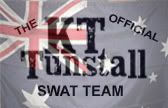 KT Tunstall wrote:
Go for it lads! Ping their hair-bands into their eyes and come back victorious!
I still consider getting wasted as an artistic pursuit.
Music, too, can be a route out of places too dark to stay.