Really sorry to hear about your dad's passing James, but like everyone has said, at least now he is pain free. As saddening as his passing is, you've gotta believe that he's now in a better place and no longer suffering in agony. Just remember that he loved you and that you did all you could to make him comfortable in his last few months of life.
Massive amounts of hugs and love coming your way, as well as thoughts too.

_________________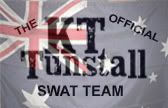 KT Tunstall wrote:
Go for it lads! Ping their hair-bands into their eyes and come back victorious!
I still consider getting wasted as an artistic pursuit.
Music, too, can be a route out of places too dark to stay.