James, I'm so very sorry for the loss of your mum.
As Shawna said, you are lucky for the time that you have had with your mother, both my parents lost their mothers in their mid-late 20's.
MASSIVE hugs from me and all the strength I can muster up for you to get through this - you're well and truly in my thoughts.

_________________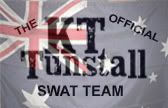 KT Tunstall wrote:
Go for it lads! Ping their hair-bands into their eyes and come back victorious!
I still consider getting wasted as an artistic pursuit.
Music, too, can be a route out of places too dark to stay.