Patrick. I know how tough that decision must've been, but for Scrappy's sake, it's better not to have him suffer anymore. Think of the good times he had with you and how much joy he brought to your life. He was a beautiful cat.

_________________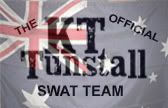 KT Tunstall wrote:
Go for it lads! Ping their hair-bands into their eyes and come back victorious!
I still consider getting wasted as an artistic pursuit.
Music, too, can be a route out of places too dark to stay.