*bump*
A significant day in my own country and across the Tasman in New Zealand rolled around once again today...
I went to a local-ish dawn service this morning, which would've been more moving for numerous reasons which I'll go into in the "irritating" thread....one year I hope to go to Gallipoli and be there for the true Anzac experience. Or Villers-Brettoneux (not sure if I spelt that correctly - OhRay!), where they held their first memorial service on Anzac Day in the 90 years since we fought on the Western Front (something I learnt about in high school during history class)...hopefully there will be many more services like that there for the years to come.
Speaking of my great-grandfather and at least 1 of my great-great-uncles (they had something on another news channel about a service held in Thailand and they spoke a tiny bit about the story of the Thai-Burma railway - immediately I thought I'll have to get there too, since 2 of my great-great-uncles died as a POW building it as mentioned in last year's post above), I recently received their medals off my grandfather and hopefully once I get them fixed up a little bit and give them a polish, next year I'll wear them proudly.
And thanx once again to James and Megs for decorating the forum appropriately.
Quote:
They shall grow not old, as we that are left grow old;
Age shall not weary them, nor the years condemn.
At the going down of the sun and in the morning
We will remember them.

Lest we forget.

_________________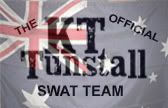 KT Tunstall wrote:
Go for it lads! Ping their hair-bands into their eyes and come back victorious!
I still consider getting wasted as an artistic pursuit.
Music, too, can be a route out of places too dark to stay.