I too have been offline most of the week, only to come on here and be shocked and surprised by what I've read.
I might not have known Kristelle at all, but like most people have said here, she seemed like a lovely girl and one heck of a KT fan. My thoughts go out to her family right now. May her spirit live on throughout these forums. R.I.P

_________________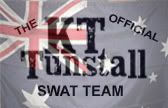 KT Tunstall wrote:
Go for it lads! Ping their hair-bands into their eyes and come back victorious!
I still consider getting wasted as an artistic pursuit.
Music, too, can be a route out of places too dark to stay.