*wondered what the hell a yoghurt-knitter was too!*
Thought that was a weird expression, hadn't heard it before. I think I fall under the category "Yoghurt knitters are people who worry about things as long as they are in the news, and at no other time" myself.
I don't recall reading that earlier article from which most of the info for this was pinched...I probably did, but it was ages ago so this in a way was a refresher. HOWEVER, it
is
crappy journalism...why the hell it is on the front page I'll never know. Surely there's worse things happening in the world than this? Who really gives a rats whether KT is speaking to him or not (even though his political views are vile...yes, I have heard about the BNP despite not being from the UK), that's their business, not for the rest of the world to know.
I do feel sorry for her family though, having this crap brought up again...as Kim said, hope it doesn't distress them too much.

_________________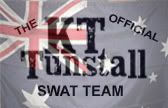 KT Tunstall wrote:
Go for it lads! Ping their hair-bands into their eyes and come back victorious!
I still consider getting wasted as an artistic pursuit.
Music, too, can be a route out of places too dark to stay.